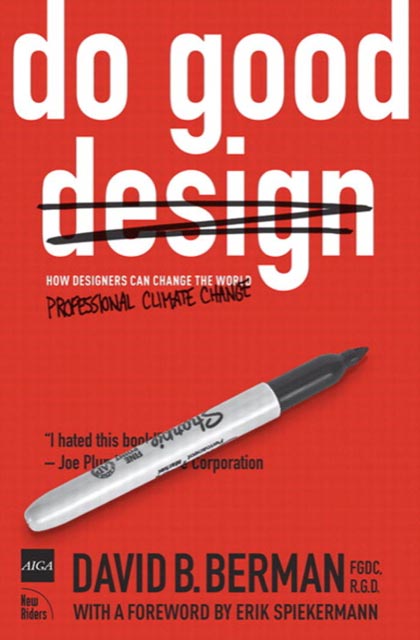 Right from the front matter of the book, there is a sense of caring about the world–concern for the environment. The author explains that the choice of Malloy to manufacture the book stems from their certifications with the Forest Stewardship Council and Sustainable Forestry Initiative that protect endangered species, wildlife, soil and water quality, and are concerned with global tropical deforestation and unsustainable logging practices. And this was in 2009. Are we still so vigilant and caring? Have we become more conscientious about the effects of our design practice whether positive or negative.
The book alerts us to the role design plays in persuading global audiences to fulfil invented needs. Berman outlines a sustainable approach that respects not only to the practice of design but also strives to hold onto our principles. He helps us to be conscience of how our work effects the world—whether negatively or positively. It is consciously thought provoking.
While portions of the book are easily accessible as pdf via the internet, there is no permission for printing or copying or downloading to limit the use of paper. The print book now has editions translated into Chinese, Korean, Indonesian, Spanish, Russian as well as Bahasa and even in braille.
Yes, it is ten years later. The issues and perspectives that serve as the foundation of the basis of the book remain current environmental and ethical issues such as truth in advertising while also providing suggestions of what professional designers can do:
Be true to your profession
Be true to yourself
Spend ten percent of your professional time helping repair the world
Good reminders to refer to often if we are attempting to do good.
This book will serve as a gentle reminder to those who have been designing for a while and will be a great inspiration to emerging designers who might be seduced by the idea of making money and a good reputation to instead consider others who might be helped by your design talents. As designers, we have skills that can be used to make the world better. We simply need to be learn to be aware of how we can contribute our assistance while at the same time as utilizing our skills and abilities for those in need.
Design creates so much of what we see, what we use, and what we experience. In a time of unprecedented environmental, social, and economic crises, designers must now choose what their young profession will be about: deploying weapons of mass deception — or helping repair the world. Design for Good is an ethos to use problem-solving and design thinking toward social change. It is a way for designers to play a catalytic role through community projects that create positive social impact.
Whether you are an experienced designer or just learning about the profession, this book is a useful reminder of the power of your profession. Think about what it means to do good design and to do good — and to change the world.
About the author: Berman, a Canadian designer, speaker and writer, was appointed as a High Level Adviser of the United Nations Global Alliance for Information and Communication Technologies and Development (UNDESA-GAID) on how design can be used to help to fulfil the Millennium Development Goals.