Unless you have been living under a rock, you will know that there is a new gacha game in town — Genshin Impact. Gacha games are usually played casually on the phone and use a monetization model where you either earn in-game currency through hard work in the game or pay with money. Moreover, everything in the game is tied to chance whether it is getting higher tier characters or weapons. For Genshin Impact, the objective is rather simple. You play as The Traveller and assemble a team of four characters to go on an adventure in an open fantasy world with quirky monsters while also collecting bountiful loot. Of course there are other worthy attributes that make this game tick all of the boxes — beautifully designed characters and environments, the engaging action-based battle system with character switching, elemental magic power bursts, the thrill of map exploration, completing puzzles, opening hundreds and hundreds of chests, and of course Paimon.
What or who is Paimon? You might ask. Well, here's the thing — we don't know. As for now, she is the companion of the Traveller whom we have fished out of a lake by accident. And because we have saved her from drowning, she now accompanies us to help find our missing sibling. I know it's a lot to take in but hang on. There's more. Paimon is cute. Like cult-worthy cute.
On top of her bubbly persona and spunky attitude, she sounds adorable in her Voice Over in Mandarin, Japanese, Korean and English (I prefer the English version, but the others also have the same Paimon-esque energy). Her visual depiction has the picture perfect characteristics of a cute character. Of course you will find that Genshin Impact has other nicely designed characters, too! And I won't disagree with you. But I'll let you in on a little secret — I abhor gacha games. The first time I heard that Genshin Impact is actually a gacha game, I balked at the idea of playing it. But peer pressure, boredom with current games, and COVID-19 finally pushed me to "at least give it a try — until you interact with Paimon," as one of my friends gently put it. He must have known that I would fall head over heels for Paimon, and thus hooked me to the game. I see this now. His plan worked as intended.
Okay here's the thing. Although Paimon shares the same name with one of the Demon Kings of Hell from the book Lesser Key of Solomon, I can assure you, she looks nothing like one. Instead, she is small, adorable, and cute!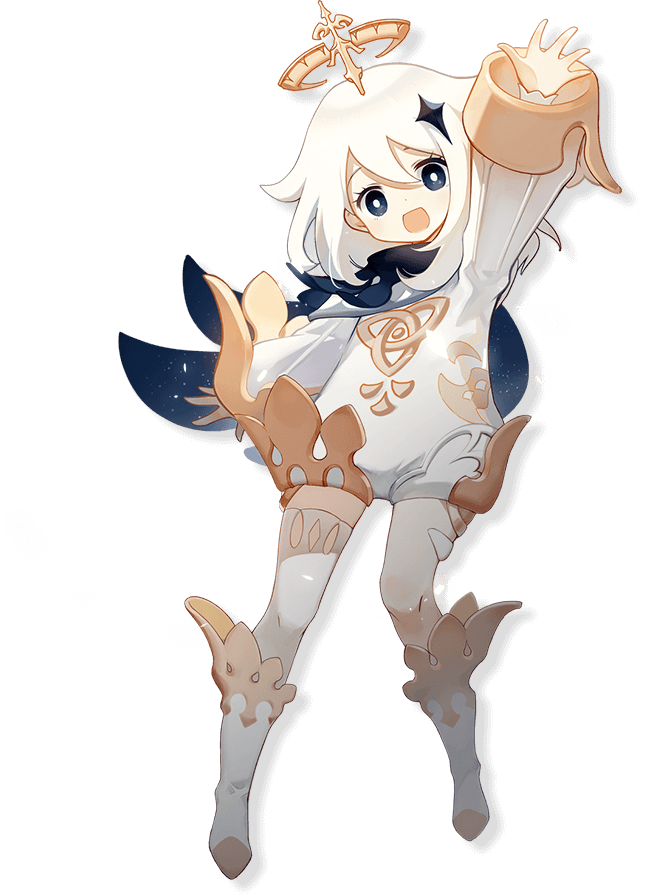 The thing is, there is more to Paimon than just being the cute character, or Emergency Food, or a fish, or presumably a demon or the final boss. She is literally the mascot of the game. She represents Genshin Impact as the game and app icon, on the website and social media too. On top of her adorable design and aesthetics, her character's personification also captures the ideals of a kawaii character — childlike, petite, and rambunctious.
In character design, there are several layers of detailing that includes more than the shape, size, pose, and proportion when creating the initial look. A good character design will need to exhibit the assigned role of the character with the correct visual cues, physicality, and personality traits. That means it has to trigger the right impressions to the viewers at a glance. Ito and Yamashita did a study on this in which they assessed the viewer's perception of mascot designs in Japan. They found that viewers find it easier to perceive the cuteness and stylishness of mascots who display "originality", "lightweightedness", and "sophistication" as well as individuality. That means besides a good design ratio of facial features, body proportion, and colour scheme, the strong personality traits are part of an effective mascot character design. Paimon appears to include all of this which could explain why she is suddenly famous. Of course, one might argue that this is entirely up to individual preferences. I know there are Genshin Impact players who loathe Paimon due to her display of childlike tantrums and her blunt remarks, while others claim that she is just another cookie-cutter design. In the end, it's all about perception, and if the viewers feel a connection to the character that they can relate to. So one might say, it is very subjective. Perhaps the reason why I find myself adoring Paimon is because I have a certain weakness for cute chibi characters. After all, in the setting of our current predicament, beautiful, pleasant things are a blessing, and Paimon is one of the cute mascots that bring us a bit of joy and happiness in our lives. At least in mine!
---
References:
Ito, S., & Yamashita, T. (2014). Applying rough set to analyze psychological effect of mascot character Design. International Journal of Affective Engineering, 13(3), 159-165. https://www.jstage.jst.go.jp/article/ijae/13/3/13_159/_pdf