Current Efforts by Malaysian Artists & Designers
Recently, the Malaysian design landscape is burgeoning as more designers and makers are contributing to the local design community, be it through art festivals, exhibitions, or workshops. A handful of these artists and designers are starting to gain popularity for their work, as more people begin to appreciate and support Malaysian designs. And although many of these designers have been interviewed about their work, there has not been enough discussion about how their work contributes to "Malaysian" design, and how it impacts public awareness and appreciation. Added to the general lack of archiving and other documentation efforts of Malaysian design, this may pose a challenge for the future development of Malaysia's national design identity. Hence it is vital that these efforts be studied and recorded, because they are a part of our design history.
The interest in the current design landscape and development of a Malaysian design identity inspired this research, which included a public survey, interview, and features on several Malaysian designers and artists. These selected Malaysian designers and creative individuals have been grouped into three categories, that is, Reflect, Showcase, and Reflect, based on their efforts in helping develop Malaysia's national design identity. These categories were created by the researcher based on observing and identifying similar patterns and characteristics that define each of the works.
The category of "Reflect" includes individuals and groups that are either involved in academic research projects about Malaysian design or write personal, reflective essays about Malaysian design, particularly periodical publications. For this category, the researcher discussed the works of the ongoing archival project Malaysia Design Archive, and the biannual independent magazine Odd One Out. The category of "Showcase" includes the individuals and/or groups who are actively showcasing and exploring local culture in their designs, including the use of cultural symbol and language. This category touched on the works of the design collective Design Union, bespoke letterpress stationery company, The Alphabet Press, and local lifestyle brand Nala Designs. Meanwhile, the category of "Politicise" looks into politicising and satirizing of current socio-political events in Malaysia. This category covered the works of the activist design collective GRUPA.
Individually, each category carries its own weight in raising the public consciousness about the role of design in society. But these categories are also closely linked to each other, as the interdisciplinary nature of art and design allows certain works to take on multiple forms, meanings, and functions. Even within this dissertation, the individuals/groups identified from one category were also involved with another project in a different category. The culmination of these efforts can have a lasting impression on society, by changing public perception and setting the groundwork for future designers to build upon.
Public perception of Malaysian design usually revolves around colourful imagery of cultural arts/crafts (batik, wayang kulit) and other cultural symbols found in the country. But it is important to note that these traditional symbols, crafts, and performances are not the cultural definition of the respective ethnic groups, as there can be multiple identities within each group deriving from different experiences. However, they serve as cultural markers or identifiers that have been used by the state in efforts of nation-building and promoting tourism. And it is this persistent use of a fixed set of historical and cultural symbols that has created this constrained perception of what Malaysian design is, in place of those of a more fluid, ever-evolving nature. The same methods and circumstances of which these cultural elements were used in design can be traced back to as early as the colonial period, when the British and Japanese empire would use graphic design to enforce their administration. To this day, the multitudes of culture and ethnicities in Malaysia are often reduced to the four categories of "Malay", "Chinese", "Indian", and "Others", in a system of ethnicization that has been passed down from the era of British colonialism.
Following the independence of Malaya and subsequent formation of Malaysia, there was an urgent need by the government to create a national identity to rally the people of Malaysia and direct them to new efforts of social and economic reconstruction. Hence, the National Culture Policy was implemented in 1971, which sought to define the national culture and language, among others. The NCP is significant in the development of art and design in Malaysia, because it affects the way each culture and its accompanying cultural elements are perceived and treated, by both government and society. This is due to the hierarchy of cultures that is established within the NCP principles, with the indigenous Malay culture being defined as the "national culture", and therefore at the top of that hierarchy.
There was the introduction of Mahathir Mohamad's Bangsa Malaysia policy in the 1990s, which indicated the possible replacement of restrictive, ethnocentric cultural policies with more inclusive, idealistic ones (Harper, 1996). But Gabriel (2011) notes that although the "Bangsa Malaysia" was first brought up twenty years ago, the fact that 'the concept has yet to be formulated in concrete terms by the government has only added to the fervor of the debates'. More recently, there have been a few notable developments by both the government and non-governmental organisations which concern the future state of art and design in Malaysia. In 2012, Pertubuhan Wakaf Reka Grafik Malaysia (wREGA) or the Graphic Design Association of Malaysia facilitated a by-invitation roundtable discussion called "The State of Design in Malaysia". The discussion aimed at creating a dossier to the Prime Minister of Malaysia on the importance of design for the country (ZHOA, 2012). Malaysia's first ever change of government on 10 May 2018 also saw renewed demands for recognition and support of the arts and culture community, including a statement urging the newly elected Malaysian government to reinstate a dedicated Ministry of Culture, Arts and Heritage in the new cabinet.
As Malaysia continues to develop its economy and infrastructure, art and design have been comparatively given little attention by the government. Sixty years after its independence, the country is still without a comprehensive national design policy, although the recent discussions between designers and policy makers in creating a national design agenda have been promising. The national design identity of Malaysia is still in its infancy stages. Design literacy and awareness is still low among most parts of society.
Now, nation-states can no longer exert full cultural control over their citizens, as globalisation has allowed greater visibility of national and ethnic minorities, and provided a platform for individuals and groups to reclaim and reshape perceptions of Malaysian identity. As Guibernau (2007) explains, globalisation has drastically changed the way information and culture can be produced and disseminated.
Perhaps it is then noted that the current art and design movement in Malaysia coincides with the advent of globalisation and technology in this region. Many of the individuals and groups identified within this dissertation are grassroots, in the sense that they receive little federal or state government support. And many of them have devoted significant amounts of time, energy, and money into their works, as certain projects are more focused on intangible results, which make them less commercially sustainable. These individuals and groups are influential members who are part of a larger community of artists, designers, academics, and advocates, who actively seek to foster a culture of appreciation for arts and design.
The impact of creative hubs has been discussed in a unique research project by Low et al. (2017) titled "Mapping Creative Hubs in Malaysia",  which also applies to the projects and cumulative efforts of the aforementioned individuals and groups in this dissertation. Firstly, they help to develop future talent by sharing their knowledge and experiences, and foster a supportive community within the local art and design landscape. Malaysia Design Archive and The Alphabet Press both hold workshops and talks which aim to encourage discussion and sharing of resources between members of the community, including future artists and designers. The individuals and groups also create and sustain public engagement with arts and design, which could help improve and broaden public perception.
The intangible and invaluable impact of the efforts from these group of designers, academics, and activists are cumulative and can make a difference in the long run. Their wealth of experience and knowledge within the art and design community enables them to play a larger role in influencing national design identity and even local policy. This dissertation is merely the researcher's similar but smaller attempt at contributing to the eventual development of national design identity; to plant seeds and let those ideas take root.
This article was first written and published for Taylor's University, and is a summary of the writer's dissertation of the same name.
Many of the individuals and groups identified within this dissertation are grassroots, in the sense that they receive little federal or state government support.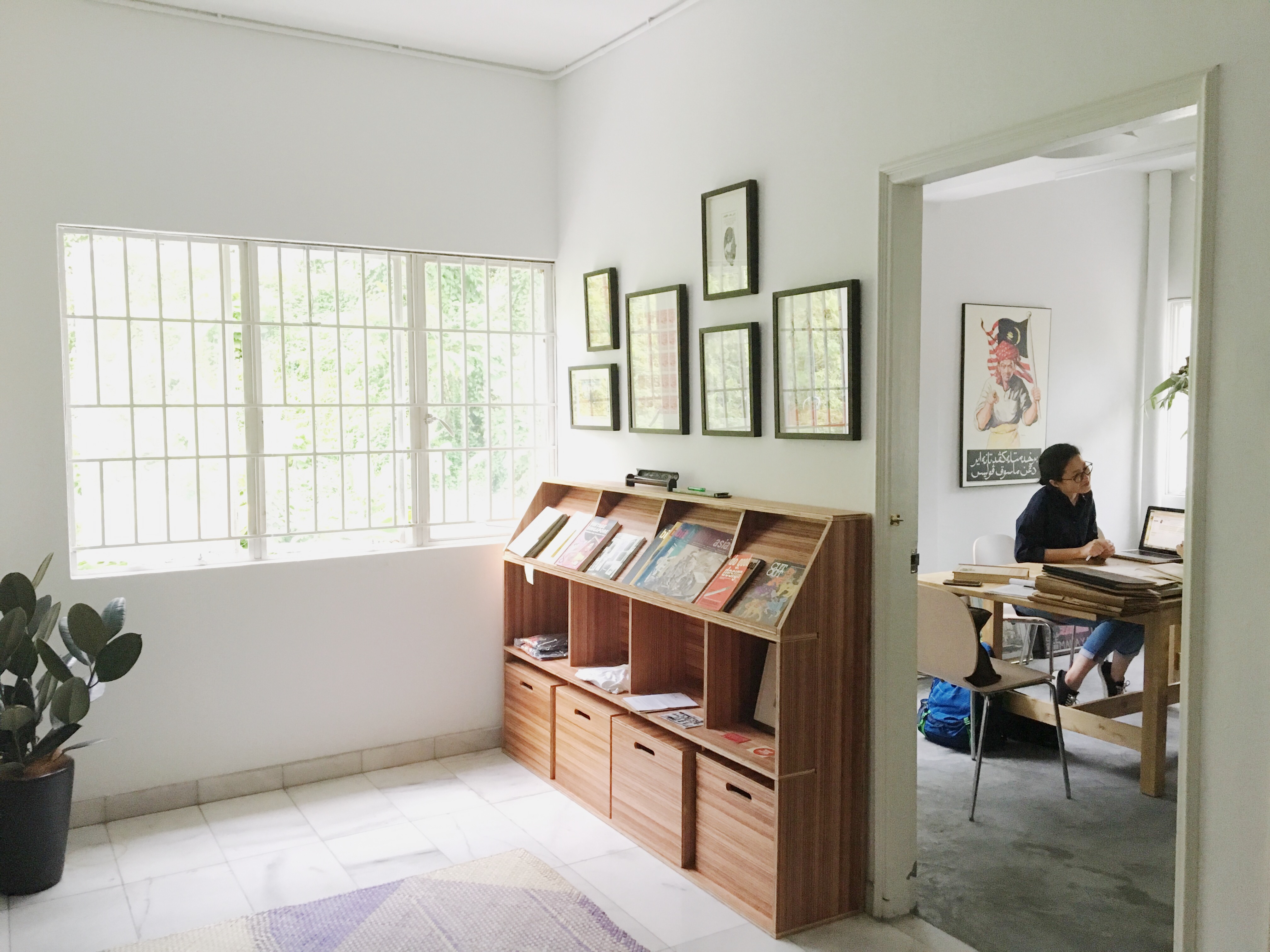 References:
Gabriel, S. P. (2011) 'TRANSLATING BANGSA MALAYSIA', Critical Asian Studies, vol. 43:3, pp. 349-372, DOI: 10.1080/14672715.2011.597335
Guibernau, M. (2007). ?The Identity of Nations.? United Kingdom: Polity Press.
Low. L et al. (2017). Mapping Creative Hubs in Malaysia. British Council [Online]. Available at:
https://www.britishcouncil.my/creativehubsreport (Accessed: 3 December 2017)
Zachary Haris Ong & Associates (2012). 'The State of Design in Malaysia' Dossier, Graphic Design Association of Malaysia (wREGA). Available at: https://zhoa.co/accolades/2012/10/the-state-of-design-in-malaysia-dossier-by-wrega/ (Accessed 23 November 2017)