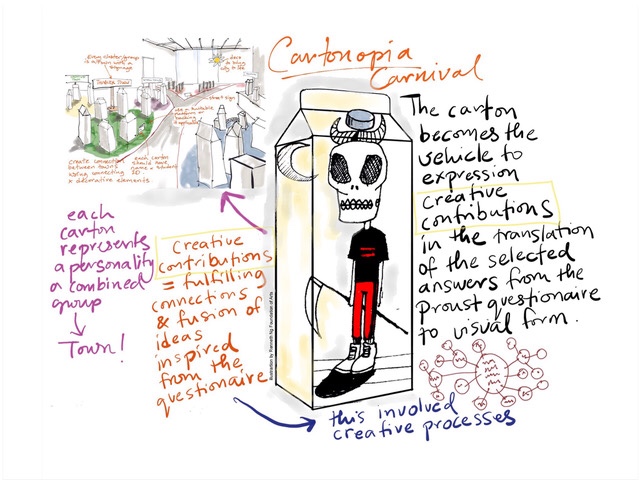 All of these items were found at CoDA (Center of Design and Art) located in the commercial block on the Taylor's campus, directly across from Starbucks, where the exhibition Cartonopia Carnival! presented an assignment outcome based on a 132-year-old questionnaire popularised by French novelist Marcel Proust in late 19th century.
The Proust personality questionnaire asks such things as: Your favourite virtue; Your chief characteristic; Your idea of happiness; Where would you like to live? My heroes in fiction; Your idea of happiness; etc. which allowed the students to explore and expand and examine themselves. Of course, the students then had to find visual ways to express their answers and apply them to milk cartons. The results of the questionnaire were expressed in an amazing range of designs by Foundation students on the requisite milk cartons. Yes, milk cartons. Each student individually interpreted/expressed their results in visual forms on the cartons which became more than reused and repurposed items.
The installation of the milk cartons took these items to even more amazing results since the students were formed into groups who found individual ways to arrange and install the works. Cartonopia represents each of the 400 plus personalities and talents of two cohorts (January and March) from the Foundation programmes — Foundation in Arts, Foundation in Design, Foundation in Natural Built Environment, and Foundation in Science who were ­­­part of the Creative Thinking Skills module which is offered across these four foundation programmes.
In addition to the exhibition, which deserved an investment of time to meander through the various visual groupings, musicians and dancers and singers from the class performed throughout the week. Congratulations to the teachers of this course, Charles Sharma and Miss Vitiyaa for the challenging assignment and very exciting exhibition.
Students' artworks from the Cartonopia Carnival exhibition, 2019.
There will be future exhibitions in coming weeks:
Beginning on July 23 exhibition of art works by Ernesto Pujazon that are inspired by paintings executed by contemporary abstractionist Peruvian painter Fernando de Szyszlo. Merry Zar, a Taylor's design student and illustrator, will exhibit some of her illustrations
From August 20 to September 2. In future months, the Taylor's Design School Faculty will present their work for the second year, and toward the end of the year will be a fashion show to showcase the new fashion design programme beginning in 2020.
Be sure to take a walk in the commercial block and stop by CoDA (The gallery is located opposite Starbuck's.) to enjoy these visual expressions that represent a wide range of topics and materials that will not only offer you a chance to see what kind of work is being done on the Taylor's campus but also challenge your notions of the limitlessness of the possible directions in art and design.