I spend an insane amount of time sitting in front of my computer either doing work, playing games, or exploring new technologies …living the sedentary lifestyle to the fullest! I don't like doing outdoor activities. I see them as a waste of time, not because of the activities, but because of the time that it takes for me to go to a location and back. One hour of exercise requires two hours of travelling plus preparation time equals two hours wasted. I also have a back-injury courtesy of an outdoor activity I did many years ago so I am not keen on doing that again.
Three months ago, I decided to take up mountain biking. I've been living like Jabba the Hut for many years and I don't like how I feel about myself. The last time I was on a bicycle was probably twenty years ago, so I was a bit nervous to get back to it. Luckily, I found a small group of friends who wanted to do a similar activity. After getting my new used bicycle and gearing up like a professional mountain biker (I needed to dress up for the part!), we went to the Forest Research Institute of Malaysia (FRIM) where we experienced riding on the outdoor trails. It was great! I enjoyed being in nature and being with friends. It was refreshing and fun — that is until we hit our first hill. I can't remember how many times I had to stop and rest. My legs and feet felt numb. I was  extremely out of breath and my heart rate was at the maximum. I had the same experience the following weekend and the weekend after. This was not fun anymore. If I represent this in a User Journey Map, this is how it would look.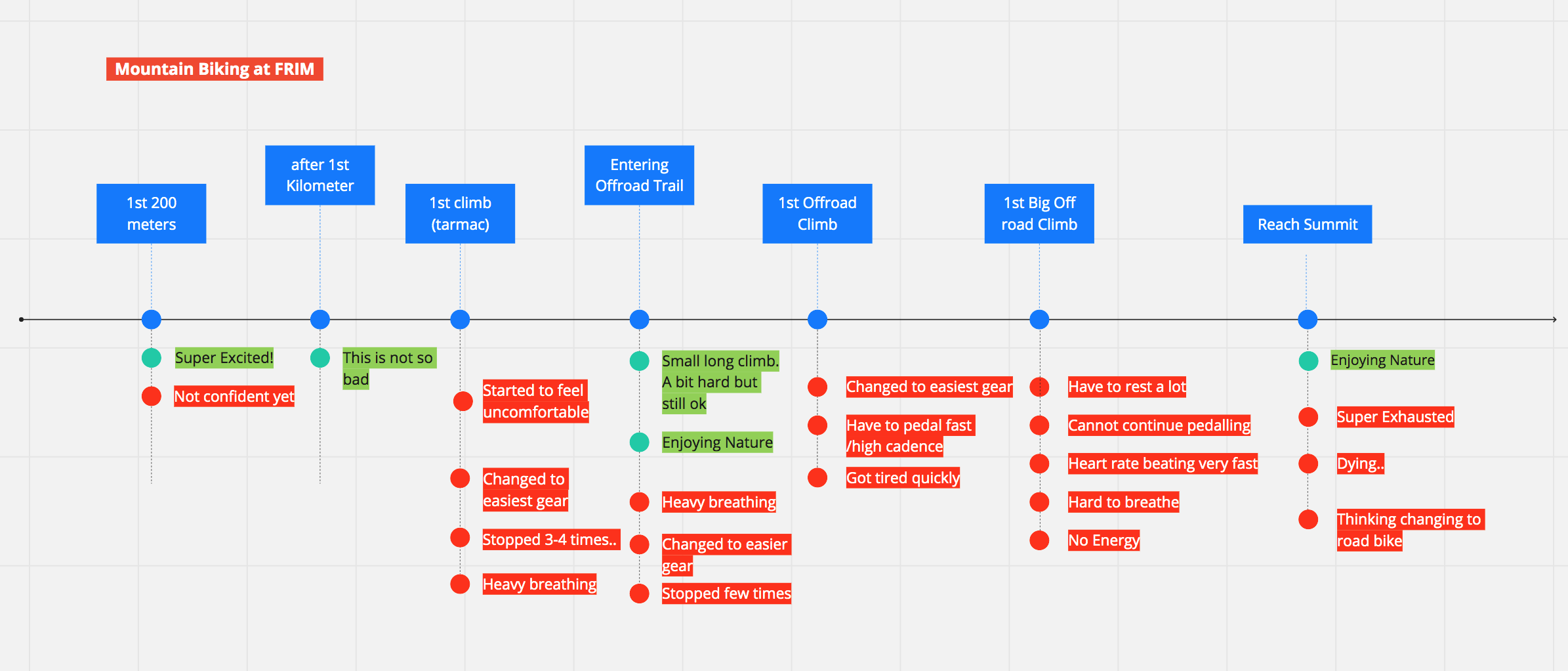 There are three pain points that I identified:
Getting tired quickly
Suffering while climbing hills
Little improvements after 3 weeks.
Remember that mountain biking started as a means for me to get fit. But to enjoy mountain biking, I need to get fit first! Like everything else that we do, if we want to do it better, we have to do it more! (Malcolm Gladwell's 10,000-Hour Rule?). Cycling once a week won't cut it which means, I need to cycle 2 to 3 times a week, and I must cycle indoors using an indoor trainer during the weekdays after work so that it won't take too much time. But honestly, I can't find the fun of doing indoor cycling. It is boring! There's nothing to motivate me to continue pedalling. If I'm tired, I'll just stop. I've seen the indoor trainer end up as a towel rack. I do not want that to happen. The solution to these pain points I have is that it needs to be fun and motivating so that I will keep on doing it.
As I was looking at some videos on YouTube to plan my exercises and ways to keep my motivation going, I was introduced to Zwift, a virtual cycling app that when paired with compatible sensors or indoor trainer will allow me to control a virtual avatar, and it moves in the virtual world. Essentially, it's a "game" where the player's movement is triggered by pedalling. That's the base mechanics, but there is more to it. Zwift will keep track of the cyclist's speed, distance, power, cadence, and heart rate! It will also simulate the ground resistance and elevation according to the virtual cycling route. Which means, when climbing hills in the virtual world, your indoor trainer will automatically adjust the resistance to simulate a similar feel. Coupled with additional hardware, it will provide wind blowing in your face while riding down a hill. The virtual world will feel as real as it can be!

I gave it a go and it turned out to be an interesting experience. Zwift fulfils what I need and what I want. I need to get fit, and I want it to be fun! So how can Zwift help me get fit? It has a range of workout and training programs that suit different levels of the cyclists for different purposes. The training program gives you constant feedback and cues during a session which is really helpful. It gives you the feeling as if you are working out with the assistance of a personal trainer. It will give advice on what you need to aim for during a training session and keep track of the session's performance. It will advise on how long you need to rest before starting the next workout. If you're making improvements, you will see it in the data.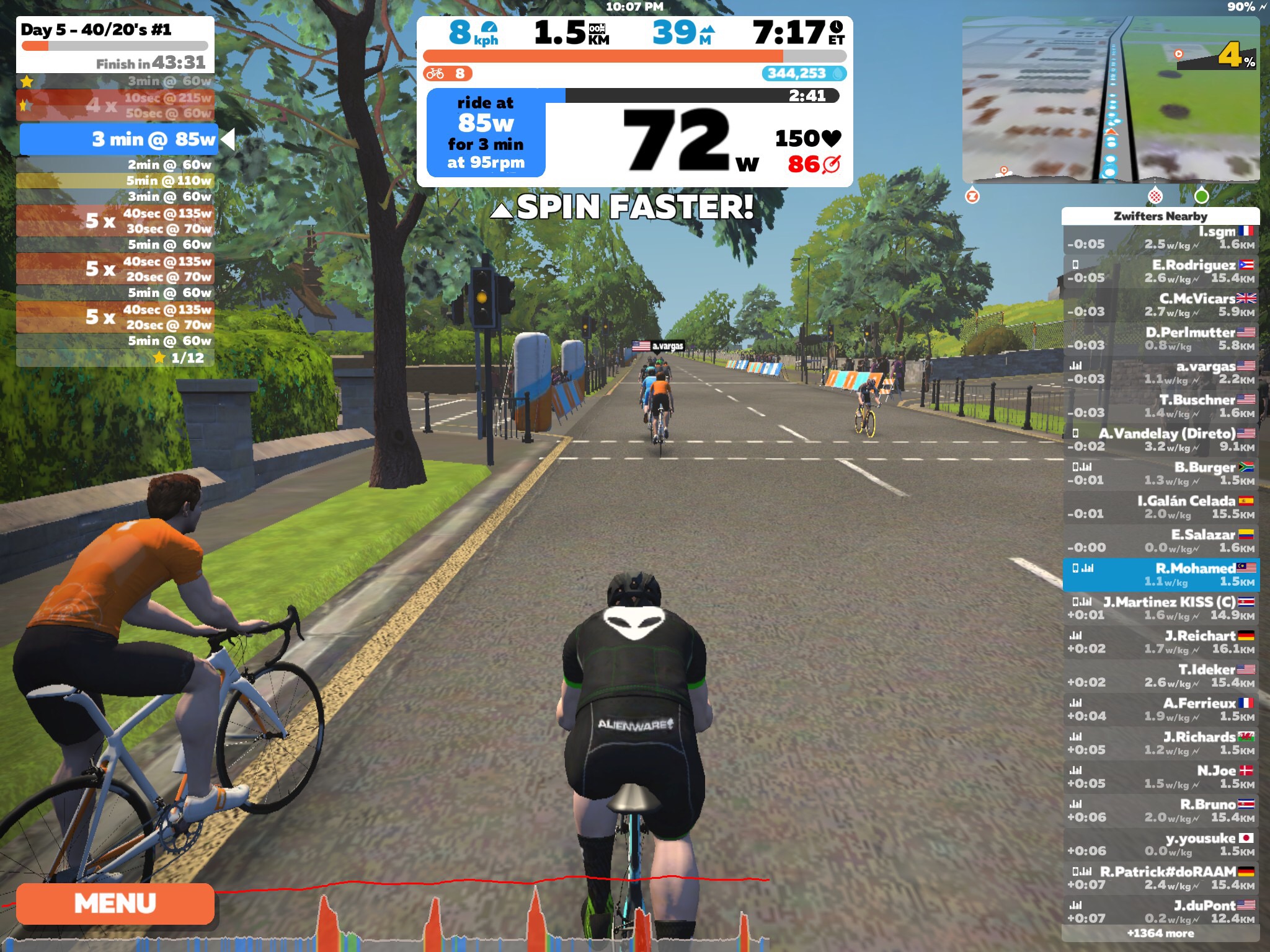 Cycling many times doesn't mean that you are guaranteed to improve if you don't know which area to improve. You need to have a clear goal and plan your cycling workout to achieve that goal. My ultimate goal is still to get fit to ride! On mountain biking trails, this means to be able to tackle a mixture of some short steep climbs as well as a long climb. I need to be able to cycle longer and need to get stronger to overcome those hills. I need endurance and power.
Again, this is where Zwift is helpful. The training programme has workout routines to do just that. I've also added indoor running to my workout routine just to see if it will help in achieving my goal faster.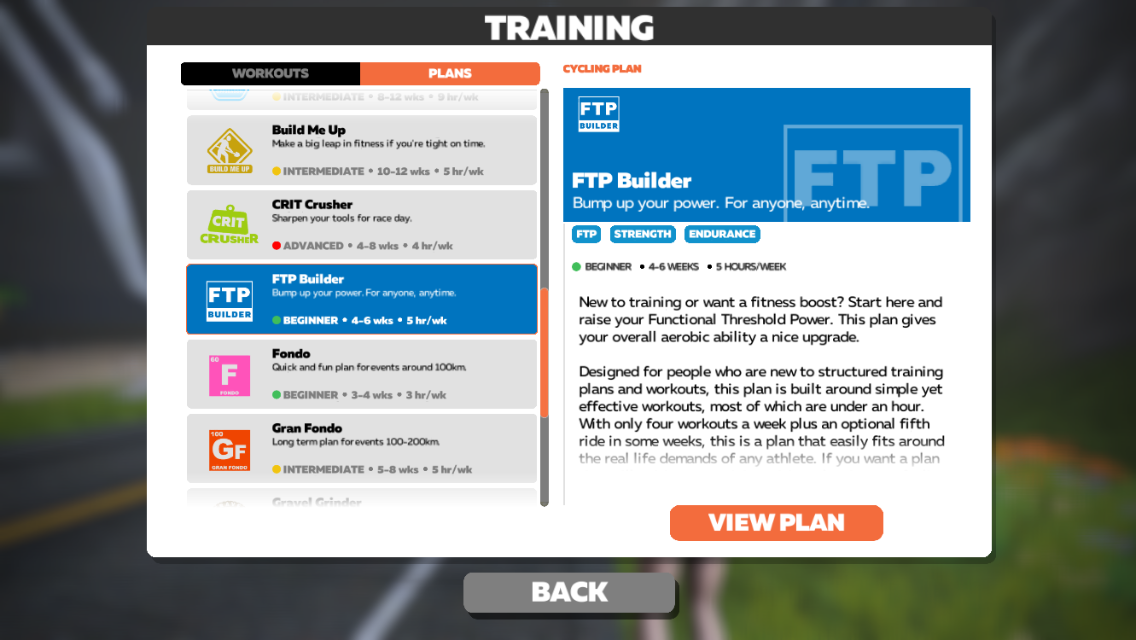 Zwift made me try running in the 1st first place. It supports similar virtual experiences as cycling but with the use of a foot tracker. I thought that since the cycling experience was great, I might as well try running. I bought my foot tracker Zwift RunPod from Amazon, currently the cheapest available. All I need to do is attach the tracker to my shoe and run on a treadmill. Running on a treadmill now no longer makes me feel like a hamster. The experience, however, is not as enjoyable as it is with cycling. The tracking is not that accurate. Still, seeing your avatar move when you run is magical!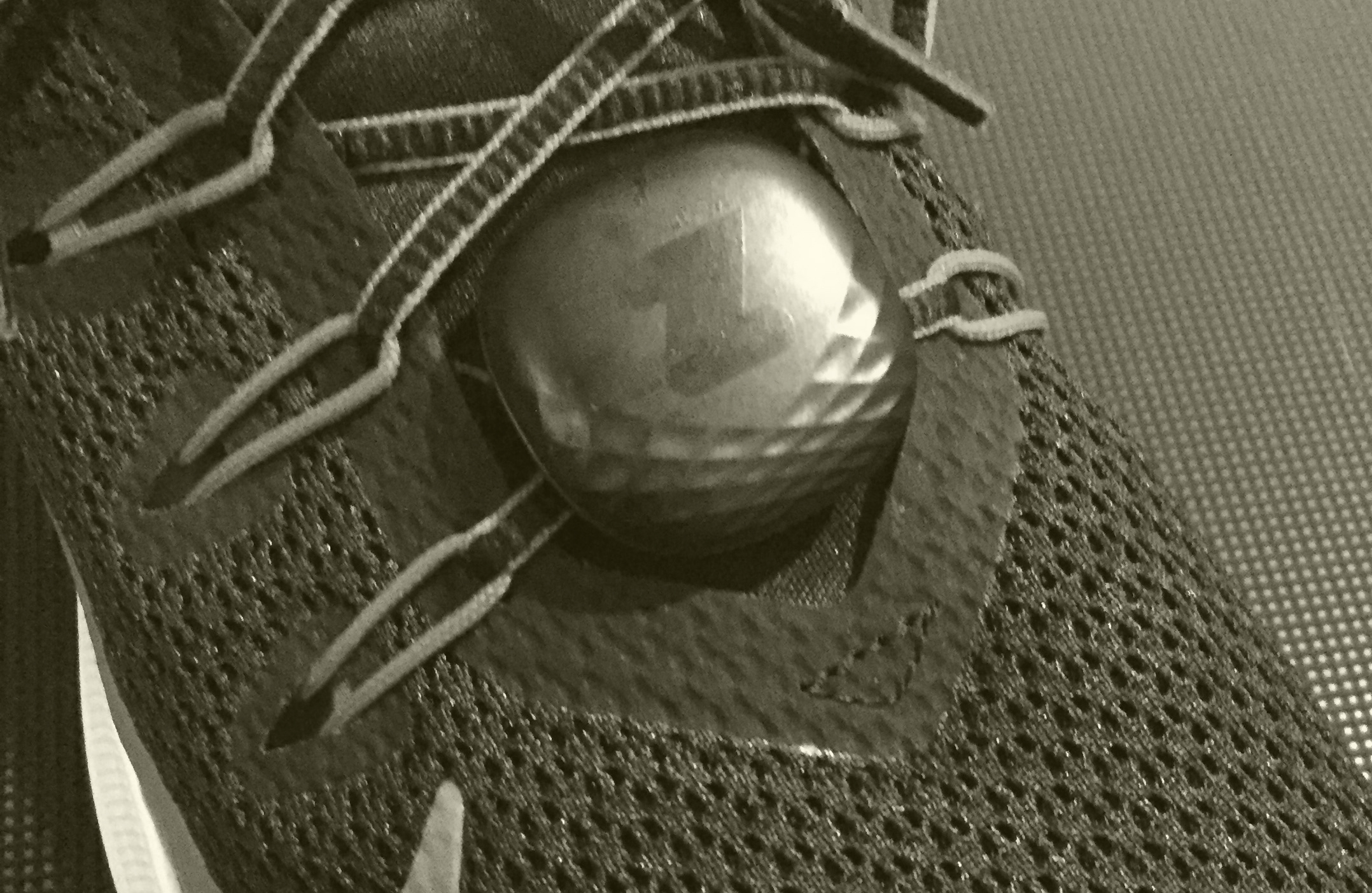 So really. How does all this help after 1 month?
I am able to cycle longer.
I am able to climb non-technical hills without stopping (much).
I still need to rest for steep punchy and technical hills but the amount of rest is less and shorter.
My heart rate doesn't spike all the time.
I felt more comfortable.
I am beginning to enjoy mountain biking.
After the second month, things improved a bit more but I'm still lacking on power. This is the pain point that I need to tackle and focus on for my future workout — it will not happen overnight.
The table below from Strava shows my progress on the same segment over a span of roughly two months. The segment is a tarmac climb and I chose this segment for consistency factor.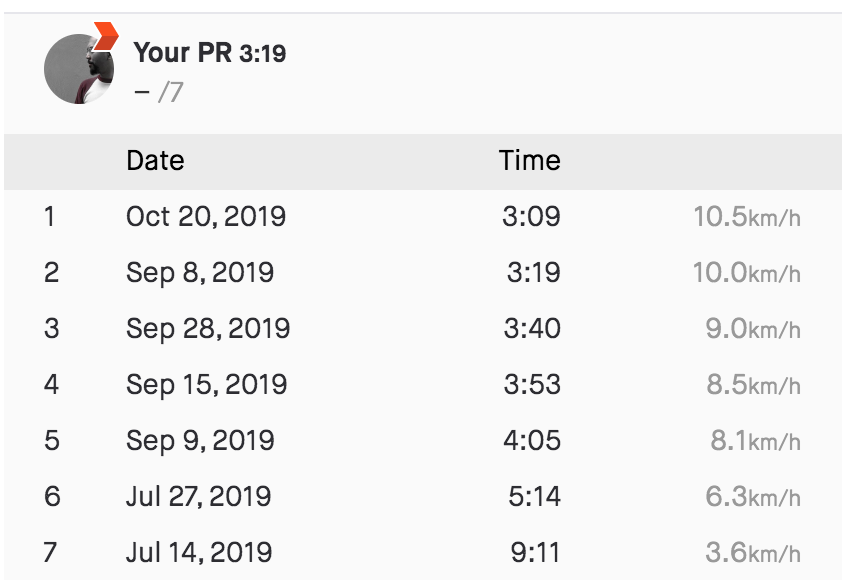 You can see that there are small incremental improvements every time I went through the segment. Except the fluke reading on the 8th of September. There was a group of pretty girls hiking the same route which acted as a catalyst in igniting my sudden burst of super human strength and jolted me to the top of the hill in record time. I was gasping for air soon after they were no longer in direct line of sight.
In addition to cycling and running, I've managed to diversify my workout even more. I've added Virtual Reality to my sessions as well. Games such as Beat Saber and Box VR on Oculus Quest are great for upper body workout. I remember a while back when a friend suggested  that I try Beat Saber. My response to them at the time was , "Who would want to become exhausted playing a game?". I just laughed at the thought of me playing Beat Saber thinking that after a while, it'll just be the same routine, and I'll get bored quickly. Well, the joke is on me. I was not the target user at that time. I am now, if they include people whose goal is to become healthy as one of their target users. I now play Beat Saber and Box VR for the cardio aspect. Plus, it's also fun to see my Beat Saber nemesis Ms Anis get knocked down from the leader board.

Gamifying, cycling, and running have changed the way I see indoor exercises. I enjoy doing it and I love how all the data during the exercise, training, workout, and virtual race are stored and analysed. I love how the problems that I want to overcome were solved by tools that were once seen as boring and dull but now been given new life with new technology to become useful, entertaining, and fun. Three months in, I still have not turned my indoor trainer into an expensive towel rack. In fact, I've turned a space in the house into a mini-gym —my pain cave. Well now, things are getting a bit more serious, aren't it?

The little improvements I achieved over the past couple of months has gradually elevated my confidence. Though I'm still far from the average cyclist fitness, I'm way better than when I started. But I have to know how do I fair against others. So I signed up for a Mountain Bike race event! It's 30 Kilometres off-road track organized by USIM (Universiti Sains Islam Malaysia), in Nilai Negeri Sembilan. This is it! This is where the whole journey will come to conclusion. This will be my graduation day!

Race day arrived. I did what I can to prepare myself and my bike. Load up my bike into my car, and head to USIM. It's around 1 hour drive from home. Once I arrived at the venue, I quickly acquire my race kit and then unloaded my bike. I was accompanied by my wife. None of my riding buddies wanted to join the event. But I've already set my mind to do it so it doesn't really matter much. Just a little bit awkward since I have no idea how things are proceeding.
Once the race kit are all set, I mounted on my bike and head to the starting line. But before I could pedal further, the worst thing happened. I have a flat rear tyre! I brought a spare wheel but it's for the front. I quickly pump the tyre but it wouldn't inflate. The race is about to begin. I did not bring extra tube! Even if I did, I do not know how to change the tube nor do I have the tools to do it. So I decided to abort. Load my bike back into the car and head home. I did not graduate! However, I do learn a valuable lesson. Do not assume everything will be okay. Always be prepared for any possibilities. In this case, though I have prepared myself physically and mentally, I did not equip myself with the necessary skill to troubleshoot mechanical issues. With cycling, we need to take care of both, the man and the machine! Surely my journey will not end here. It's just that for this part of the story, it's such an anti-climax!
Well, that's my journey for now. If you are new to mountain biking or cycling, do share your experience especially on how you maintain your fitness level, and if you happened to be on Zwift or Strava, do look me up. Keep fit and ride on!