I believe that most people currently cannot live without their mobile phones since it serves many important roles. Mobile applications allow us to customize our phones in this mobile commerce era. Food delivery applications are among the most popular types of applications that make our lives easier because they allow us to order food anytime, anywhere. Bernama, The Malaysian National News Agency, has found that demand for delivery orders in Malaysia have risen more than 30%, especially after the movement control order (MCO). Food delivery applications (FDAs) are now growing dramatically since more people are becoming familiar with using them.
Therefore, UI/UX design is now an important aspect of improving user satisfaction as well as engagement with specific food delivery applications (FDAs). This will also help the FDAs to maintain their market competitiveness.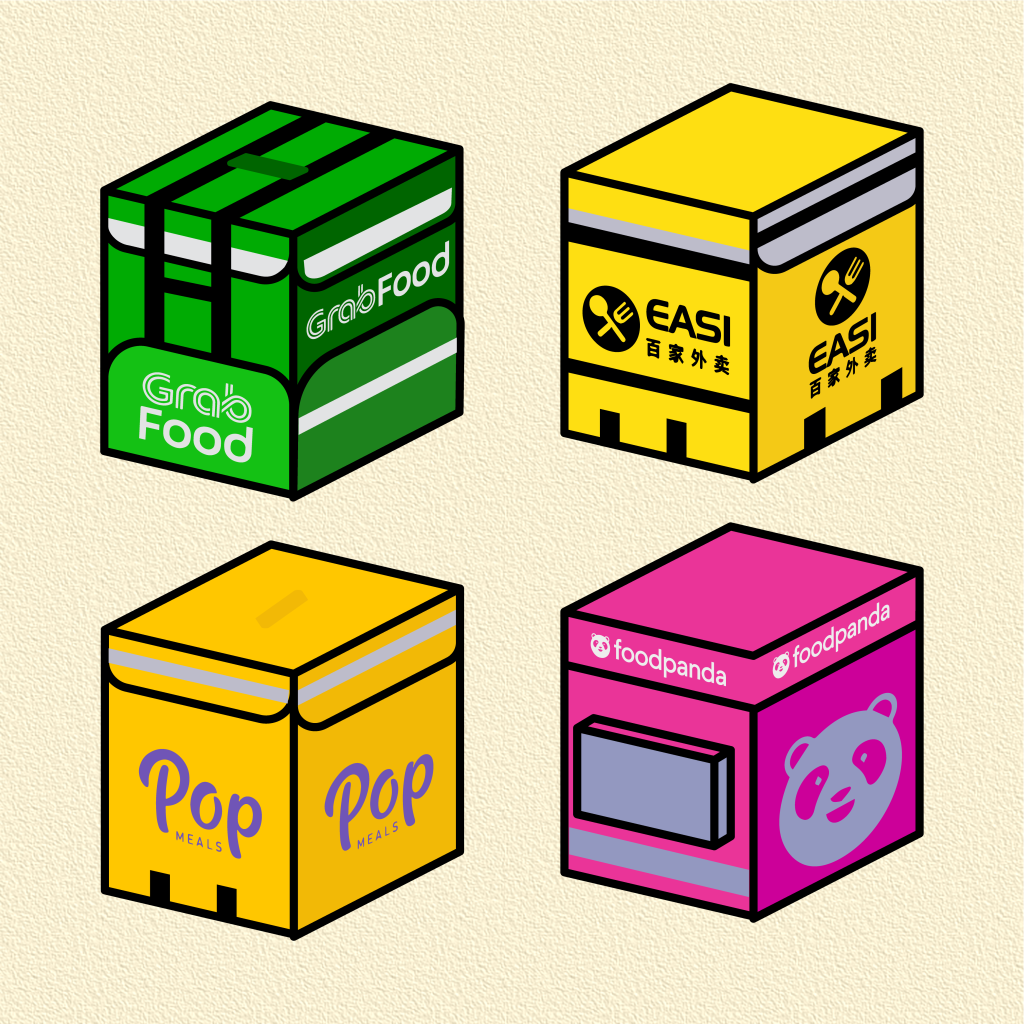 And so, I decided to research how UI/UX designs improve the interaction between FDAs and their users, as well as the importance of UI/UX design in assisting FDAs to maintain competitiveness in the market. The food delivery applications in Malaysia that were chosen for this study are Grab, Foodpanda, Pop Meals, and EASI.
A Google form was used to collect responses from participants for a quantitative study. A total of 100 respondents participated in this questionnaire. Most of them are young adults currently living in Klang Valley. In addition, I also did observational studies as a qualitative study to determine the features utilized in UI/UX design to support food delivery applications in staying competitive. The user flow of each application was first reviewed, beginning with the home page, and moving onto the menu and cart. A comparative analysis was implemented on the data gathered.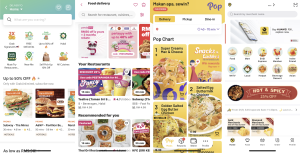 To study user engagement with UI/UX designs I looked at how ease of use, clarity, efficiency, conciseness, consistency, and attractiveness were applied. The findings from both the quantitative and qualitative studies are discussed below.
Ease of Use Usability has become the major factor in the mobile application design since it impacts who will want to continue with their digital experience — an important factor in this competitive and rapidly growing digital environment. Grab scored the highest as consumers believed it was easy to use. Observational studies supported Grab as user-friendly. Hence, Grab provided an excellent customer experience since users were able to achieve their goal.
Clarity Clarity, another important factor to consider in the design of an application. Clarity allows us to receive information more effectively in order to appreciate the clarity of the application's large amount of information. Based on the answers from respondents, Grab and Pop Meals had the highest scores for clarity of navigation. However, the user's interaction with Pop Meals was less than with Grab following the data collected from the questionnaire. Nevertheless, the clarity of Grab and Foodpanda scored higher compared to Pop Meals and EASI in the qualitative study.
Efficiency Efficiency indicates that the application works quickly to achieve the goal and, therefore, users can become very familiar with it. In terms of efficiency, Grab scored the highest compared to the other three FDAs. Besides, this finding also aligned with the results from observational studies, where Grab had the highest response rate.
Conciseness In the area of UI/UX design, conciseness means that designers are encouraged to use one word rather than a sentence to convey the same message. Based on the results from the quantitative study, Pop Meals have the highest scores in conciseness of interface. In addition the results from the qualitative study demonstrated that the design of all food delivery applications is concise as there are different ways to arrange the list of restaurants and menus. A well-arranged structure increases the conciseness of the food delivery application as the information can be delivered clearly.
Consistency UI design consistency ensures that all items utilized will be the same. As a result of consistency, the application will be seen as familiar and reliable. Grab and Pop Meals both achieved good results in consistency in both quantitative and qualitative studies. Both methods showed that Grab and Pop Meals were more consistent compared to Foodpanda than EASI.
Attractiveness The appeal of an application is critical especially to first-time users. The attractiveness of an application is derived from UI design elements such as color schemes, negative space arrangement details, form selections, and call to action buttons. Respondents agreed that Pop Meals had the most attractive visual elements used compared to Grab, Foodpanda, and EASI.
The key goal of increasing user engagement for food delivery applications is to have consumers return to use its service. Having enjoyed the experience with an application motivates users to revisit that FDA. This study also found that a poor experience is the top reason a user does not use or engage with an FDA. Therefore, an FDA should have a good UI/UX design to gain and maintain user engagement.
In conclusion, a well-designed UI/UX can improve and increase the interaction between FDAs and their users and maintain competitiveness in the current market. In this study, a few UI/UX design essentials such as ease of use, clarity, efficiency, conciseness, consistency, as well as attractiveness, were examined. Overall, Grab had the highest rating, EASI had the lowest due to having the highest usability, meaning users found it easy to use. In addition, Grab, has loyal users.
In the highly competitive market of food delivery applications, the purpose of this study is to better understand the role of UI/UX design in FDA in today's competitive market.
This study might encourage future designers to learn more about user preferences and UI/UX design essentials so as to prevent poor designs while redesigning an old application or creating a whole new one in the future.