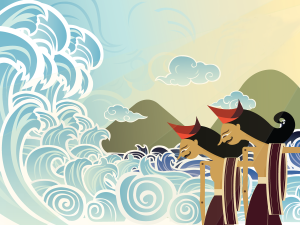 It all started when I was doing my design research methodology module in my second year of university. I was scrolling through the internet and thinking about what to research while running out of ideas. Luckily, I found an interesting article, Hybridities and Deep Histories in Indonesian Wayang Manga Comics by Meghan Downes.
The article explained how Downes proposed that it is important to view the wayang manga phenomena within broader processes of hybridization. She focuses on particular media forms of wayang in comic books in the twenty-first century and researches famous comic writers such as R.A Kosasih, known as the 'father' of Indonesian comic books such as, Is Yuniarto, and Hendranto Pratama Putra, known for emulating Japanese manga aesthetics in their well-known comics and graphic novels: Garudayana and Prajurit Dewa.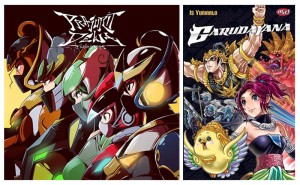 She also analyses the online fan communities as well. She found reactions to hybrid aesthetics, within the context of globalization. After that, she studied the responses of some readers that said the comics are well made for younger generations that it helped them to know and learn more about their own culture, rather than the fear and the deep concerns of how the comic is 'destroying culture'.
This actually piqued my interest. How to create a solution for the challenge? Thus I proposed my very first idea for research methodology: How the Increase of Hybridity Between Japanese and Indonesian Character Style In Wayang Does Not Appropriate the Culture. I researched and interviewed many resources and experts to support my findings. It actually expanded my knowledge about things I hadn't encountered before and it really excited me to continue this research in the Design Research Dissertation module.
According to my quantitative research, about 50.6% of people agreed Indonesian Wayang needed to be hybridized to create awareness to the country's culture, 49.4% objected, saying that Wayang originality should be kept. At the time, I had only the style hybridity between Wayang Kulit and Japanese Ghibli animation as my main reference.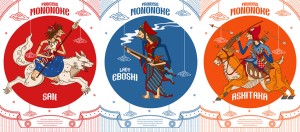 However, my objective was to create something that the younger generation could enjoy and that would encourage them to learn more about their own culture. Thus, I tried to explore animation because I believe that moving objects are more engaging and eye-catching for Gen-Z. I then researched around the area and discovered the character trailer 'Kadita' from my favorite MOBA game called Mobile Legends Bang Bang.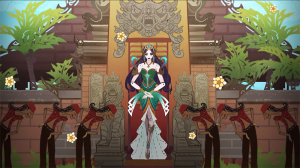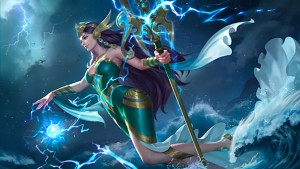 In that cinematic trailer, the elements used are mostly Indonesian elements while some resemble the Japanese style. This gave me the idea of how to create an animation for my project and how to combine them together.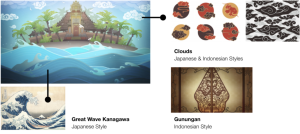 My Design Research Dissertation was then titled "A Highlight on the Study of Hybridity Between Japanese and Indonesian Style in Wayang". Besides Kadita, other references I found included are Kung Fu Panda 2 Intro and Raya and the Last Dragon Prologue.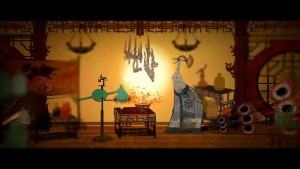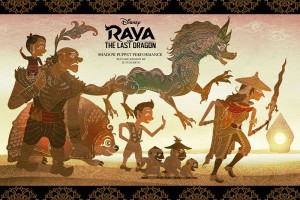 After months of researching and studying, the final hurdle in front of me was the completion of my dissertation (Wayang Kulit Animation: Hybridity Between Japanese and Indonesian Styles). A journal paper based on the dissertation was published on KREATE, a regional design and educational journal on culture, future-making and social design. The knowledge gained here would go on to inform and influence my final year project: The Legend of Toba Lake.